The GSNZ supports and publishes a large range of geological books, field guides, maps, newsletters, artworks, and other resources specific to Aotearoa New Zealand geoscience. Many of these are available for free download, while others are available for purchase directly or indirectly from this website.
To be able to purchase items from our shop you will need to login to the website, or register and create an account if you have not previously logged in. This is not the same as becoming a GSNZ member and you do not need to be a member to purchase our publications, although some publications are discounted if you are.

Our most popular book is the award-winning A Continent of the Move (featured in the image on the right). It is a beautifully-illustrated summary of the present knowledge of Aotearoa New Zealand geosciences with over 130 contributing authors.
A very popular resource is the Field wallet, a pocket-sized quick reference tool for geoscience fieldwork.
To see all of our publications go here or to view a specific category click the links below.
Spring/Summer Specials
Normally, these books sell for $20 each but for the duration of the Hochstetter Lecture Tour this year they are discounted to $14 each for non-members and are half price at only $10 each for GSNZ members.
Members only discounts
The price of some of our products have been discounted for GSNZ members only. You need to be logged into the website as a member to be able to access these prices. The discount will be applied at the checkout.
Discounts range from 10-60%, for the following items:
Zealandia Glassware (Member price $19.95; regular price $25)
Limited Edition Framed A3 prints (Member price $350; regular price $400)
Karst in Stone (Member price $6; regular price $12)
Geyserland (Member price $12; regular price $20)
From Mountains to Meteorites (Member price $12; regular price $20)
A Geologist Remembers (Member price $12; regular price $20)
GSNZ 1955-2005: Our First 50 Years (Member price $5; regular price $10)
James Hector: Explorer, scientist, leader (Member price $12; regular price $20)
A Continent on the Move (Member price $29.99; regular price $65)
Product List
Books
NZ-wide and general guide books
Region-specific NZ guide books
Resources
GSNZ-designed merchandise / gifts / artwork
Stunning Limited Edition Framed A3 prints – thin-section artwork
Geoscience Society of New Zealand
GSNZ conference Abstract Volumes
GSNZ conference Field Trip Guides
GSNZ Newsletters and historical documents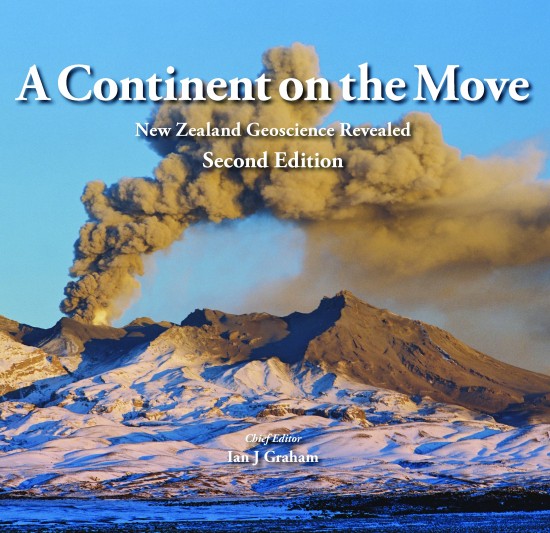 A Continent on the Move is an award-winning book that explores the dynamic worlds of New Zealand and the submerged realm of Zealandia, their natural geological wonders, bounties, and dangers.