GEOSCIENCE SOCIETY OF NEW ZEALAND
The Geoscience Society of New Zealand represents its community by providing collaborative leadership, advocacy and information to connect people and Earth sciences within Aotearoa New Zealand.
We represent amateur and professional members, and are pleased that our hundreds of members comprise high school teachers, students, academics, industry members, consultants, overseas members and retirees.
With seven branches and a number of special interest groups there are plenty of opportunities to get involved and develop your knowledge of the subject.
The GSNZ is governed by an executive committee elected from the membership annually. You can meet the current committee here.
Regardless of where you live in Aotearoa New Zealand, through our branch network, you will have the opportunity to network with like-minded colleagues in a relaxed and friendly environment.
Discover more about our branches here.
The geosciences cover a number of specialist disciplines within the earth sciences. As a GSNZ member you will be able to join any number of our Special Interest Groups. Groups may be sponsored by the Society alone, or jointly in conjunction with other professional associations or societies providing you with an international network of colleagues.
Each year we convene a conference, Aotearoa New Zealand's top gathering of geoscientists, and award and recognise members and other geoscience professionals for their achievements and contribution to the geosciences.
The GSNZ also operates two important sub groups: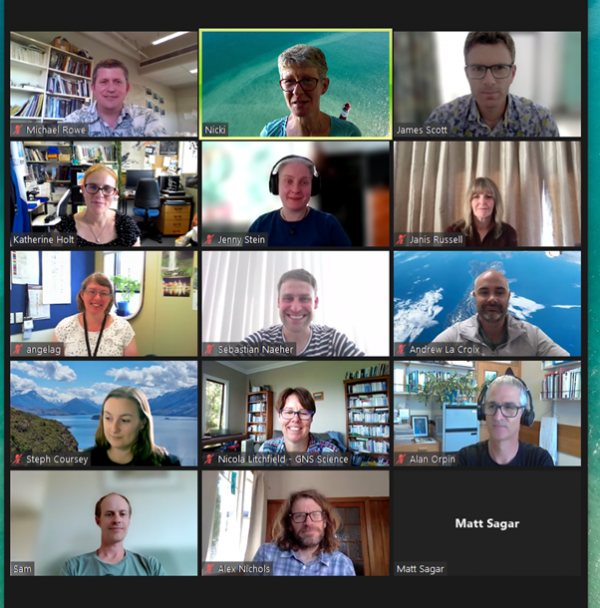 The GSNZ committee meet via zoom, March 2022
From left to right, top to bottom: Michael Rowe (Auckland), Nicki Sayers (Administrator), James Scott (Otago), Kat Holt (Massey), Jenny Stein (GNS), Janis Russell (Newsletter Editor), Angela Griffin (GNS), Sebastian Naeher (GNS), Andrew La Croix (Waikato), Steph Coursey (Student Rep), Nicola Litchfield (GNS), Alan Orpin (NIWA), Sam McColl (GNS), Alex Nichols (Canterbury), Matt Sagar (GNS)

Absent: Jenni Hopkins (VUW) had to leave the meeting to give a lecture.