For employers
You can advertise your geoscience roles here. They will be actively promoted to over 700 members in our regular Newsflashes (approximately every two weeks) as well on our social media channels: Linked In and Facebook.
Vacancies can be listed for just $49.99 +GST.
In keeping with our charitable status, proceeds from classified ads will be used to support the geoscience community and particularly students and student activities.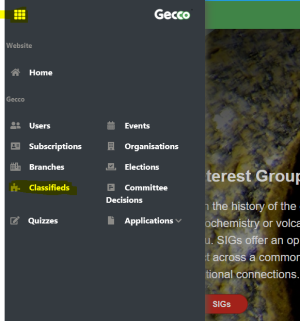 You need to be logged in to post an advert (top right corner of website).
Once logged in use Classifieds from the menu, as shown, and follow the prompts.
For job seekers
The GSNZ is delighted to bring you a jobs board with the latest opportunities for geoscientists.
Student opportunities
The Geoscience Society of New Zealand is pleased to offer our members the opportunity to advertise student opportunities at their institutions.