New membership benefit announced
Geoscience Communication with Primary and Intermediate Schools – new online course
GSNZ is pleased to endorse a new online science communication course being offered by Julian Thomson of Out There Learning Ltd.
As part of our commitment to deliver value for your subscription, the GSNZ is delighted to offer a generous 30% discount off the full price of the course to all our members.
The discount can be accessed by using a special code when registering on the Out There Learning website. This benefit is only available for GSNZ members and the code can be found here.
NB you need to be logged into the website and a current member to be able to access this page.
Not yet a member? You can join here.
About the course
This insightful course is designed to help any scientist who wishes to deliver inspiring and rich outreach engagements with primary schools. It will suit both those who have limited experience or understanding of education at primary and intermediate level, as well as those with previous experience.
Geoscience Communication with Primary and Intermediate Schools
The content covers:
Your rationale for engaging with schools
Understanding teachers' needs
Understanding students and their needs
Catering for different learning styles
How to use storytelling to initiate inquiry learning
Ways to grab audience attention and maintain it
The pros and cons of presentations, hands-on activities, field trips and multi day events
Making your own tailor made school engagement plan.
If you would like to contact Julian with any questions about the course, email julian@outtherelearning.co.nz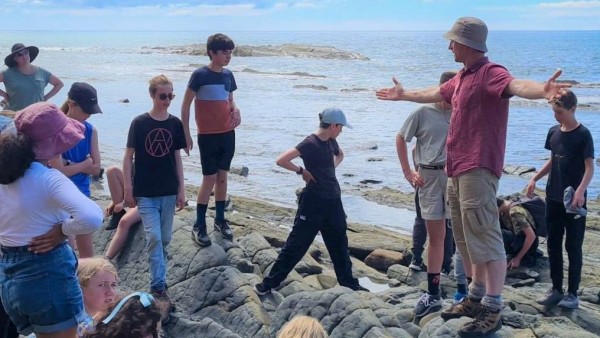 Testimonials
"Julian provides the knowledge and tools necessary to actively engage teachers and students, with easy to follow presentations and exercises"
Jenny Stein, Geologist and science communicator
"This is an exceptional program - authentic, engaging, and highly informative"
Dr Andrew Martin, Antarctic scientist
"This course provides a very clear roadmap for scientists to engage with schools. You will finish the course with such a good plan you'll be excited to get into the classroom. Best of all, approaches are outlined that will enhance the school visit experience for everyone involved."
Dr Ursula Cochran, Earthquake Geologist