Geobake 2022 winner announced
Sampling Lava by Kirsty Vincent
Geobake 2022 winner announced
Congratulations to the winner of the Geobake 2022: Kirsty Vincent, with her wonderful Sampling Lava creation!
Kirsty's entry depicts Volcanologists sampling fresh lava to gain information on its chemical properties.
Thank you to everyone who took part in the Geobake across the country and sent in their entries to be judged. While we had few entries this year, the standard was high, and the decision was a close call.
Thanks to all those who took the time to shake out their aprons, roll up their sleeves and enter the competition. We loved looking at your bakes, and picking a winner was not an easy decision! Given the few number of entries this year, the Events Committee has decided to award spot prizes to the other entries.
Runner-up entries are shown below.
Runner up entries Geobake 2022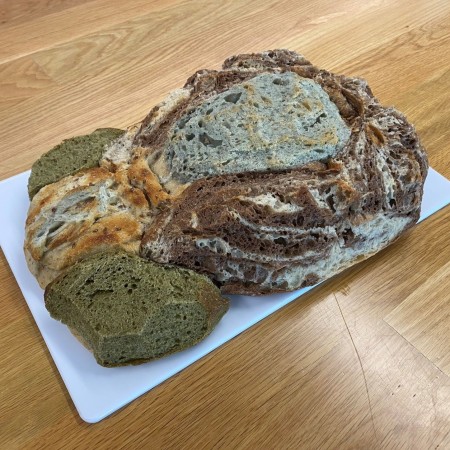 Glacial Flour

by Jamie

Jaime Delano

This sourdough shows a glacial valley and includes a glacier perched in mountains of folded bedrock. Down-valley are moraines and a braided river system. Flavours are sesame seed (white), cocoa and caraway seed (brown), butterfly pea flower (blue), and basil (green).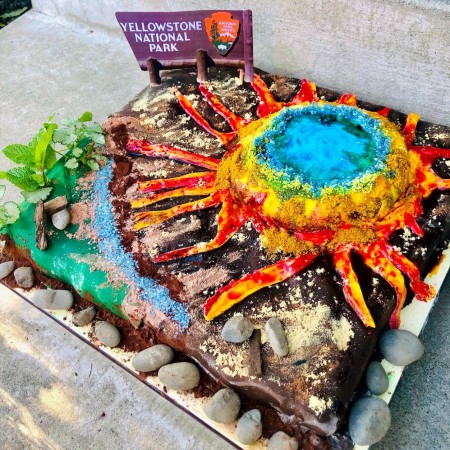 Grand Prismatic Spring "Yellowstone"

by Chelsea Jack

The Grand Prismatic Spring - an American geological wonder and one of the earth's largest super volcanos. The volcano consists of multicoloured layers of bright bands of yellow, orange and green and is centred with a crystal clear deep blue spring. The Grand Prismatic Spring lays on a bed of rhyolitic rock containing several forms of bacteria which thrive in geothermal conditions. The bacteria is known to create extremely bright pigmented colours surrounding the volcano. Having Visited Yellowstone in 2018, I was extremely fascinated by this location as it is really like no place on earth.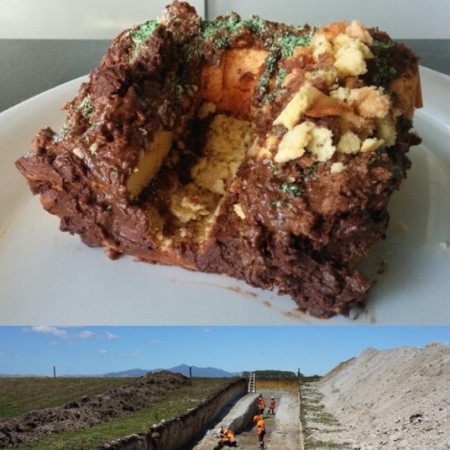 Paleoseismic trenching in the Hauraki Plains

by

Joshua Hughes

The base of the cake is volcanogenic alluvium (Hinuera Formation). While radiocarbon dating of a chocolatey peat lens indicates some post-Hinuera sedimentation, the top of the sponge cake is bulk tephra, deposited incrementally via developmental upbuilding pedogensis. Coconut and rice bubbles are used for the two visible tephras, Taupo and Kaharoa.