Young Researcher Travel Grants
Due to travel restrictions, no grants were made in 2020 or 2021
2019 recipients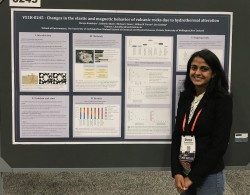 Shreya Kanakiya attended the American Geophysical Union in San Francisco.
"For me, attending AGU was more than just a technical research meeting. It was also about networking at the early career and section business meetings and attending career development workshops. It was a remarkable opportunity to learn about the cutting-edge research being pursued in Earth and Space Sciences internationally and to share my research with fellow scientists."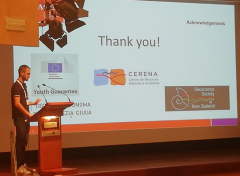 Francesco Turco attended the the 4th edition of Petroleum Geostatistics organised by the European Association of Geoscientists and Engineers in Florence.
"The sessions of the conference were focused on the applications of geostatistics, inversion of seismic data, reservoir characterisation, uncertainty quantification and even some hard core mathematics. Even though I can't say I always understood what people were presenting, I definitely got some precious hints for the development of my PhD project on gas hydrate characterisation."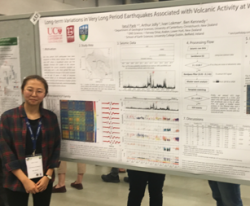 Iseul Park attended the 27th International Union of Geodesy and Geophysics General Assembly in Montreal.
"Many international scientists visited my poster sessions and gave me useful comments to improve my research. I also gained different perspectives by other talks and posters and learned a way of how to effectively communicate my opinion to audiences. The conference motivated and encouraged me to study even harder and to have confidence."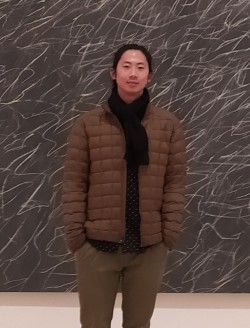 Bryant Chow attended a workshop entitled Passive Imaging and Monitoring in Wave Physics in Cargese, Corsica.
"It was refreshing to participate in discussions that ventured far outside my own field, but were still tangible within the scope of my PhD research. During the evening poster sessions I was able to share my research, and receive feedback from a diverse and international audience of researchers. The workshop was an ideal platform for making connections with future collaborators, while also sharing the work of New Zealand geosciences. I know that attending this workshop has shown to an international audience that New Zealand values the Earth sciences, and is playing a leading role in pushing the boundaries of cutting edge science."
Past Young Researcher Travel Grant recipients
Year
Person
Purpose
2019
Bryant Chow

Passive Imaging and Monitoring in Wave Physics workshop, Corsica

Isuel Park
International Union of Geodesy and Geophysics General Assembly, Montreal
Francesco Turco
Petroleum Geostatistics, Florence
Shreya Kanakiya
AGU, San Francisco
2018
Stephanie Junior (Otago)
Mirja Heinrich (Auckland)
Australian Synchrotron New User Symposium
Cities on Volcanoes Conference
2017
May Sas
Charline Lormand
Emanuele Giacalone
Elham Yousefzadeh
Sonja Bermudez
Rosie Cole
IAVCEI 2017 Scientific Assembly, Volcano Geology Workshop and Urbino Summer School on Paleoclimatology
2016
Not awarded
-
2015
Greer Gilmer (Otago),
Braden Walsh (Massey)
Katrina Sauer (Otago)
Ben Hines (VUW)
Southern Connections Congress
AGU
AGU
Urbino Summer School
2014
Hamish Cattrell (Canterbury)
Latashia Wyering (Canterbury)
Daniel Blake (Canterbury)
Claire Shepherd (VUW & GNS)
Jack Williams (Otago)
World Geothermal Congress
GSA conference
Cities on Vocanoes
Climatic and Biotic events of the Paleogene
Gordon Research Conference and Workshop
2013
Ben Moorhouse (Otago)
Katrin Wellnitz (Otago)
Kristina Pascher (VUW)
Matt Maughan (Otago)
Tom Czertowicz (Otago)
International workshop on Volcano geology
EGU
Climatic and Biotic events of the Paleogene
EGU
EGU
2012
Pontus Lurcock
AGU
2011
Robert Tinkler (Massey)
INQUA
Young Researcher Travel Grants

The Young Researcher Travel Grants were set up by the GSNZ Committee in 2009.
The purpose of grants are to fund (fully or in part) one or more early career geoscience researchers or PhD students to present at their first overseas international conference or international workshop.
The grant will fund, or contribute to funding, registration, travel and accommodation costs.