2023 S J Hastie Scholarships:
The 2023 Hastie Scholarships will be awarded in early 2024 and announced at next year's conference.
Past S J Hastie Scholarship winners (since 2001)
and Student Research Awards (1983-2000) recipients
| | |
| --- | --- |
| Year | People and universities (on rotation prior to 1995) |
| | |
| 2022 | Meegan Soulsby (Auckland), Erin Georgia Mathews (Waikato), Javelle Pereka (Massey), Liam Bramwell (Wellington), Jessie Henwood (Canterbury), Sophie Bonnington (Otago) |
| 2021 | Ema Nersezova (Auckland), William Starzynski (Waikato), Susan McLachlan (Massey), Jessie Schuler (Wellington), George Young (Canterbury), Zoe MacClure (Otago) |
| 2020 | Sam Hudson (Auckland), Ben Roche (Waikato), James Ardo (Massey), Callum Whitten (Victoria), Matthew Parker (Canterbury), Jakob Morgan (Otago) |
| 2019 | Anthony Shorrock (Auckland), Anya Podrumac (Waikato), Michael Morgan (Massey), Alastair Stronach (Victoria), Jade Humphrey (Canterbury), Harry Davies (Otago). |
| 2018 | TBC (Auckland), Holly Harvey-Wishart (Waikato), Hannah Walters (Massey), Phillipa Morris (Victoria), Abbey Douglas (Canterbury), Rilee Thomas (Otago). |
| 2017 | Alex Davidson (Auckland), Krystal Geraghty (Waikato), Hannah Harvey (Massey), Clarrie Macklin (Victoria), Thomas Brough & Janina Gillies (joint, Canterbury), Catherine Sangster (Otago). |
| 2016 | Jonathan Simpson (Auckland), Noel Bates (Waikato), Pete McGowan (Massey), Adam Thomas (Victoria), Sarah Smithies (Canterbury), Emma Scanlon (Otago) |
| 2015 | Ashleigh Fromont (Auckland), Anna Eames (Waikato), Grace Marcroft (Massey), Leise Cochrane (Victoria), Regine Morgenstern (Canterbury), Edward Perkins (Otago). |
| 2014 | Anya Leenman (Auckland), Jesse Beetham (Waikato), Rickus Van Niekerk (Massey), Christoph Kraus (Victoria), Luke Mahon (Canterbury), Dylan Baker (Otago). |
| 2013 | Scott McGowan (Auckland), Meliisa Kleyburg (Wailkato), Callum Rees (Massey), Shane Rooyakkers (Victoria), Grace O'Sullivan (Canterbury), Nichole Moerhuis (Otago). |
| 2012 | Erin Skinner (Auckland), Benjamin Clifford Simons (Waikato), Shirley May Gates (Massey), Grant O'Brien (Victoria), Emma Rhodes (Canterbury), Imogen Browne (Otago). |
| 2011 | James Conway (Auckland), Diana Macpherson (Waikato), John Irons (Massey), Jane Chewings (Victoria), Alan Eastwood (Canterbury), Betina Fleming (Otago). |
| 2010 | Saskia de Vilder (Auckland), Megan Brink (Waikato), Claire Shepherd (Massey), Tom Golding & Denise Fernandez, joint recipients (Victoria), Charlotte Stephens-Brown (Canterbury), Hannah Scott (Otago). |
| 2009 | Scott Carruthers (Auckland), April Christina Gibson (Waikato), Andrea Logan (Canterbury), Emma Phillips (Massey), Zara Rawlinson (Victoria), Tim Elliot (Otago). |
| 2008 | Catherine Frericks (Auckland), Larissa Claire Macmillan (Waikato), Mathew Clark (Canterbury), Ruth Hinz (Massey), John Creech (Victoria), Luke Hayhoe Easterbrook-Clarke (Otago). |
| 2007 | Helen Cocker (Auckland), Bradley Hopcroft (Waikato), Clare Robertson (Massey), Daniel Bassett (VUW), Marian Islay Laird (Canterbury), Campbell Ryland (Otago) |
| 2006 | Alison Kirkby (Auckland), Alison Graettinger (Waikato), Anja Moebis (Massey), Aidan Allan (VUW), Brendan Duffy (Canterbury), Bridgette Lewis (Otago) |
| 2005 | Katy Ward (Auckland), Jeremy Titjen (Waikato), Leila Chrysall (Massey), Hannu Seebeck (VUW), Rose Turnbull (Canterbury), Emilie Guegan (Otago) |
| 2004 | Joanna Graaf (Auckland), Rodney Milner (Waikato), Kim Martelli (Massey), Andrew McCarthy (Victoria), Joanna Lea (Canterbury), Matthew Hughes (Lincoln), James Scott (Otago) |
| 2003 | Christopher Hughes (Auckland), Ruth Basher (Waikato), Katherine Holt (Manawatu), Glenn Hughes (Wellington), Joshua Mountjoy (Canterbury), Jamie Ward (Otago) |
| 2002 | Anne Morrell (Auckland), Michael Fitzgerald (Waikato), Michael Turner (Massey), Matt Hill (Victoria), Andrew Burgess (Canterbury), Ray Marx (Otago) |
| 2001 | Craig Noble (Auckland), Austin Hendy (Waikato), Kathryn Wilson (Massey), Bridget Ayling (Victoria), Tanya Ewing (Canterbury), Carolyn Phillips (Otago) |
| 2000 | Erin Hollinger (Auckland), Geoff Kilgour (Waikato), Jonathan Proctor (Massey), Rith Wightman (Victoria), Tom Lucas (Canterbury), Eric Osterberger (Otago) |
| 1999 | Virginia Toy (Auckland), Graham Leonard (Canterbury), Michele D'Ath (Massey), Matthew Grant (Victoria), Wayne Gunn (Waikato), Brendan Norrie (Otago) |
| 1998 | David Tillick (Auckland), Heidi Wehrmann (Waikato), Lynda McGrory (Massey), Emily Chetwin (Victoria), Karl Spinks (Canterbury), John Becker (Otago) |
| 1997 | Justin Franklin (Auckland), Philippa Earl (Canterbury), Hannah Brackley (Massey), Craig Wright (Otago), Dene Carroll (Victoria), Caroline Guay (Waikato) |
| 1996 | Alison Sprott (Auckland), Anekant Wandres (Canterbury), Josh Adams (Massey), Sarah Jones (Otago), John Rampton (Victoria), Glen Murrell (Waikato) |
| 1995 | Catherine Reid (Auckland), Nicola Litchfield (Canterbury), Brenda Rosser (Massey), Mark Henderson (Otago), Julie Lee (Victoria), Deborah Bowyer (Waikato) |
| 1994 | Kay Cooper (Canterbury), Eric Wilson (Victoria), Rochelle Hanson (Waikato) |
| 1993 | Guy Simpson (Otago), Scott Keeling (Massey), Jan Lindsay (Auckland) |
| 1992 | Richard Justice (Canterbury), Stuart Gerritson (Waikato), unknown (Victoria) |
| 1991 | Barry O'Connor (Auckland), Andrew Wards (Massey), John Youngson (Otago) |
| 1990 | Michael Rosenberg (Waikato), Tod Waight (Canterbury) |
| 1989 | Joel Baker (Victoria), Keenan Jennings (Auckland) |
| 1988 | Andrew Constantine (Otago), Robert Lieffering (Massey) |
| 1987 | P.R. Cochrane (Waikato), M. Stewart (Canterbury) |
| 1986 | Jonathan Keall (Victoria), Richard Ruddock (Auckland) |
| 1985 | Joanna Tompkins (Massey), James Crampton & Scott Nicol (Otago) |
| 1984 | John Utley (Waikato), Michael Johnston (Canterbury) |
| 1983 | Cornel de Ronde (Auckland), Lisa Foley (Victoria) |
Sid Hastie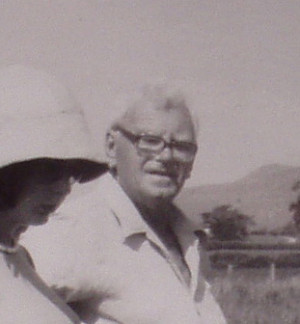 Sidney (Sid) Hastie was a long-standing member of our Geological Society. He came from a New Zealand farming background, and spent most of his adult life on his farm in the Bay of Plenty. In the latter 40 years of his life he became an avid traveller visiting most parts of the world, where he was fascinated by their geology and landforms.
Sid got his first taste of New Zealand geology when, in the early 1970s, he attended an Adult Education Field Camp at Kawhia led by Auckland geologist Peter Ballance. He was so inspired that he read widely, joined the GSNZ attending many of our conferences, and joined geologist-led study tours around New Zealand, Australia and the US.
Sid was a major benefactor to our Society, shortly before his death in 1996, Sid wrote: "I decided to provide funds for a geology scholarship to foster and encourage an interest in geology in the hope that others will find us much pleasure in the study of geology as I have."