As members of the Geoscience Society of New Zealand (GSNZ) we know how fascinating and enlightening having an understanding of the Earth can be! Our goal as the Geo-Education, Outreach and International Development (GeOID) Special Interest Group (SIG) is to connect people and help develop skills at sharing their insights and enthusiasm for geoscience with the world.
The GeOID SIG is for any GSNZ members involved or interested in engaging non-expert audiences with geoscience and/or promoting geoscience's role in creating a more sustainable and equitable society. Whether you work with schools communities, the general public, NGO's or experts in other fields (such as economists and policy makers), GeOID is a place to share and celebrate your initiatives, efforts and experiences, and help generate new ideas. We are keen to support and promote a multi-faceted approach to outreach that engages with audiences at all levels of understanding and incorporates different cultural perspectives (academic, industry, mātauranga Māori and community) across a range of geographical scales (local, national and international).
In addition to a quarterly newsletter, we have established an online speaker series called "GEOTalks" (Geo-Education & Outreach Talks). These monthly 30-60 minute sessions are an opportunity for our members to present and learn from each other as well as invited speakers, build connections, and stimulate ideas for how to improve, extend or establish new education, outreach and international development opportunities. Check out some of our publicly available presentations on our YouTube channel.
GeOID membership is free for GSNZ members and we are always on the look out for new ideas, activities and intiatives, so join us today!
GeOID SIG Convenor: Jenny Stein
Contact: geoid@gsnz.org.nz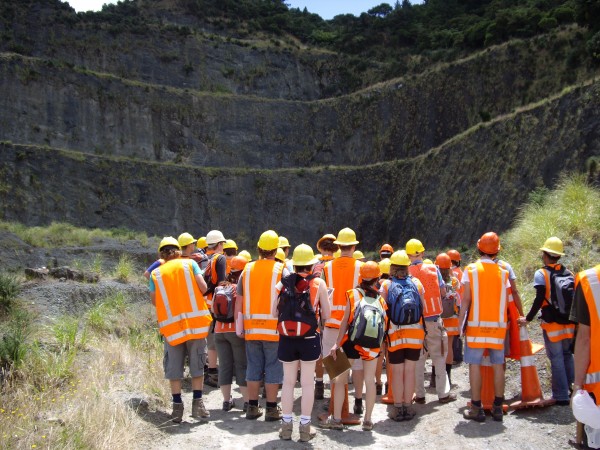 King's Quarry located near Wainui, north Auckland, site of a University of Auckland 3rd year field mapping course.